Gone are the days of hushed tones and awkward confessions when it comes to talking about our sex toy usage. At Bespoke, sex toys are synonymous with self-care, which goes further than a good face mask and a meditation session. Sex toys can be a valuable part of a person's self-love journey or a couple's sex routine. Adding sex toys into the bedroom can stimulate your sex life by lengthening foreplay and making the build-up to sex more intense.
Wand vibrators, prostate massagers, and butt plugs are just a few of our favorites, but which sex toys have become must-haves in Americans' bedside drawers? We turned to Google Trends and a survey of over 1,000 Americans to map out which sex toys are most popular across the country, as well as answer the following sex toy-related questions:
Is sex better with a toy, a partner, or both?
How much would you spend on a high-quality toy?
How did your sex toy usage change during the height of the pandemic?
Methodology
To find out which adult toys Americans use on their sexploration, Bespoke Surgical turned to online search interest. First, we referenced Purewow, GQ, and Advocate to compile a list of the most popular sex toys. Then, we analyzed the Google Trends search volume of each sex toy across all 50 states and D.C. from July 2021 to July 2022 to find the most Googled sex toy in each state and nationwide.
From there, we surveyed over 1,000 Americans across various gender identities, ages, and sexual orientations from June 29th to July 1st, 2022, for an inside look into America's sex toy usage, frequency, habits, consumer behavior, and more.
United States of Sex Toys
Sex toy popularity has skyrocketed over the last few years. Overall, dildos, butt plugs, vibrators, and fleshlights are the most popular adult toys, nationwide. It's safe to say we all indulge in some form of self-care, but sex toy users in some states really understood the assignment. 
Although vibrators and dildos are similar, a vibrator comes with a motor. The battery-powered adult toy comes in all shapes and sizes, and according to the sex toy map above, the selection is infinite. The devices are specially designed to stimulate various erogenous zones. Indiana, Kentucky, South Carolina, Virginia, and other states prefer clit vibrators, whereas Massachusetts and Utah keep their sex life magical with a wand vibrator.
Sex toy users in Arizona and Rhode Island are paying special attention to their bums,"anal vibrators and anal beads are most popular in these states, respectively, while butt plugs are mainstays in the sex toy collections of residents in Idaho, Iowa, Kansas, New Hampshire, and the Dakotas. Wearing this special sex toy can increase sexual pleasure by preparing muscles for anal sex, providing foreplay, or giving yourself a little anal stimulation.
The Battle of the Vibrators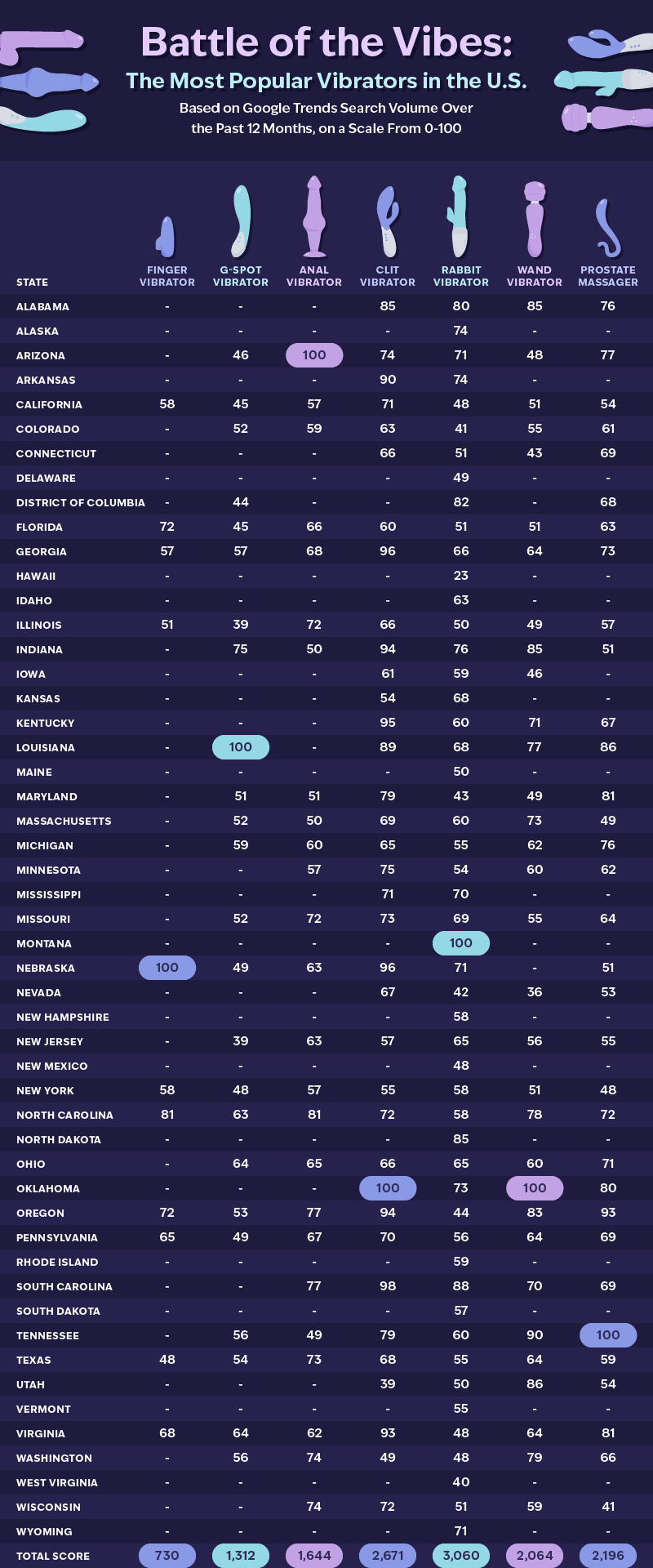 Research shows that during sex, many can't climax from penetration alone. However, with clitoral stimulation, a different tune can be sung. The clitoral vibrator brings buzzing pleasure to those who use it around or on the clitoris. This could explain why so many (especially in Oklahoma) are Googling them, "the clit vibrator has a total search volume of 2,671 across all 50 states."
The P-Spot needs some love too. With prostate products on a steady rise (among both gay and straight cis men), the prostate massager is in demand across the U.S. with a total search volume of 2,196. Tennesseans, in particular, can't get enough of this prostate toy as they've Googled the P-spot massager more than any other state.
However, with a whopping total search volume of 3,060, rabbit vibrators are the most popular vibrator choice in the United States, overall. Consider rabbit vibrators a perfect cross between a dildo and a clitoral vibrator, a love child. Specially designed to stimulate the vaginal and clit simultaneously, the rabbit packs double the orgasmic punch.
Sex Toy Statistics & Trends
According to survey results, once the average American finds the sex toy of their dreams, most will indulge in its pleasure by themselves. Overall, respondents are twice as likely to use a sex toy alone than with a partner. Female, bisexual, and Gen Z respondents have the highest sex toy usage per month (when using a toy by themselves), and female, bisexual, and gay/lesbian respondents have the highest sex toy usage with a partner each month.
When asked to rate the quality of sex with a toy vs. a sexual partner on a scale of 1-10, where 10 is excellent, respondents who identify as female rated sex with a toy higher than sex with a partner, 7.56 (toy) vs. 7.36 (partner). For some, orgasms come easier or last longer with a toy. Bisexual respondents also say sex is better with a toy, 7.53 (toy) vs. 7.19 (partner).
Sex sells, but just how much? Over half of our survey respondents (53%) will pay at least $100 or more for a toy. Specifically, Americans will spend $140.53, on average, for a top-notch sex toy, according to survey results. What's more, the largest portion of respondents aren't purchasing their toys from sex stores, 38% turn to Amazon for their sex toy needs.
When it comes to experimenting with toys, 89.2% of couples are receptive, while only 10.8% are intimidated. And over 30% of respondents say they prefer to have sex with a partner and a toy, simultaneously. Using a sex toy is a fun way to help couples spice things up and can add a whole new dimension to your relationship to strengthen the bond (in and out of the bedroom).
Let's rewind and think about sex toy usage in 2020. It's no surprise that stress release was widely needed during quarantine. 44% of overall respondents purchased a sex toy in 2020. LGBTQ+ and younger generations were sex toys' best customers during that time frame. Nearly half (48%) of both gay/lesbian and Gen Z respondents, purchased a sex toy in 2020. For 47% of those Gen Z respondents, that was their first-ever sex toy purchase.
Why is Gen Z so open to sex toys? Perhaps it's because they're younger, less experienced, and therefore, excited about experimenting with sex. But according to WWD and others, sexual wellness is part of this generation's DNA. They suggest that the TikTok generation is more informed, open-minded, and unself-conscious about sexuality than any previous generation.
Finally, 34% of respondents have never used a sex toy with a partner, which is understandable. Often thought of as a solo experience the use of sex toys by a couple can improve their sexual relationship. Meanwhile, another 16% of respondents have never purchased a sex toy at all.
Closing Thoughts
At Bespoke Surgical we view sex toys as a form of self-care and self-discovery, which is why opening the doors to make them a mainstream topic is so important to us," explained sexual health and wellness expert Dr. Evan Goldstein. We ourselves learned several great insights during the course of this survey, but one of the most enlightening was Gen Z's strong presence in the results. It's encouraging to see such a strong sex-positive mentality within the uprising generation, which we see as progress being made towards shattering sexual stigmas.
Sex is fun, and toys make the experience even more worthwhile. Many adult toys on the market can enhance sexuality in relationships, and we understand that sex toys are an excellent way to explore with proper and safe use. Check out the Bespoke Surgical blog for more news and discussions on sexual wellness.
About the Author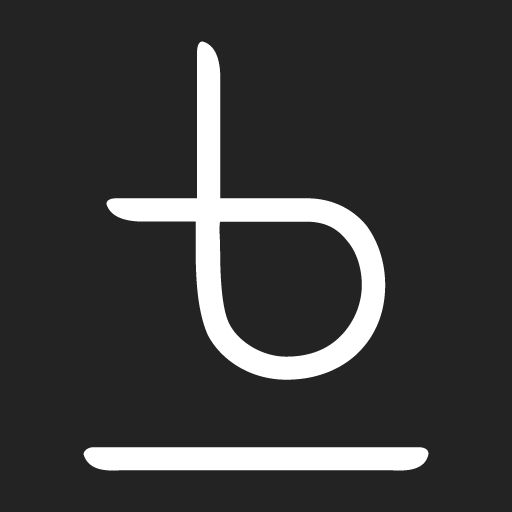 Consistent, proactive, and thoughtful healthcare is not only a priority, it is a demand by men who live well. Bespoke Surgical is built on this understanding. Today's modern, urban male has become adept at making the most of life, believing in living fully and completely in all aspects of work, fitness, relationships, and family. This makes excellent health more important than ever.
Join Our Newsletter
Subscribe to receive exclusive content, new product information, and the latest news.
Featured products
Doc Johnson Crystal Jellies® Anal Initiation Kit - Clear
$19.98
Fun Factory Bootie Butt Plug
$35.00
Future Method Glass Anal Dilator Set
$60.00