The "how to" of sex positions is imperative for any relationship. Mastering different gay sex positions not only heightens the experience but also provides a deeper connection with your partner both literally and figuratively. But before we start, if you've ever wondered, "What's a top or bottom?" Don't worry. These terms might be common within the LGBTQ+ community, but not everyday vernacular for everyone else, which is why we've put together an ever-growing list of LGBTQ+ terminology.
At Bespoke Surgical, we think about sex in completely different ways and by bringing science into sex, a new era of understanding will allow improvement for everyone. Regardless of which gay anal sex positions you explore, it's important to understand their differences:
Affect the top and the bottom in different ways
Bring out both submissive or aggressive characteristics of each person
Require an understanding of both everyone's positioning (height, penis curvature, and pelvic angle)
Little nuances and adjustments can make all the difference in terms of pleasure vs. pain, as does open and honest communication. It's key to choose wisely which initial entry anal sex positions you start with. Go slow and allow yourself to progress from there. Steady movements with gradual changes are elemental.
The last, and most important, bit of advice I will leave you with is: communication. The best of the best communicate throughout the entire process. Why? Because success hinges on this concept.
The 10 Essential Gay Sex Positions
Cowboy
In the cowboy position, the top sits or lies back while the bottom sits on top of them, facing each other. I always recommend this as the first position when you're new to bottoming because it gives the bottom total control over the depth and speed of penetration. However, if you're experienced, you can make slight variations so that the top can take a more active role and control penetration. Once the bottom feels comfortable, they can go even deeper (pun intended) by crouching down while on top, allowing them to actively ride and fully bear down on their partner. Moving their pelvis forward and back can also help achieve different sensations for both people.
PROS/CONS
This is one of the best gay sex positions for those just starting out because it gives the bottom full control of the depth and speed at which they are being penetrated.
On the other hand, if you're not new to bottoming, you can use this opportunity to be more dominant, while your top can be more submissive.
The bottom can more easily control their pelvic angle in this position, based on their own anatomy.
The potential downside for bottoms is that they have to be more active. If you're naturally more submissive, you'll have to get out of your comfort zone.
The potential downside for tops is that they have to relinquish some control and be more submissive in this position.
Depending on the bottom's pelvic angle, because most penises point up when erect, this is how the bottom can achieve optimal prostate stimulation.
However, if you have mastered the concept of proper pelvic angulation, by moving forward or back on the penis, you could cause trauma to the prostate, resulting in prostatitis.
Another possible concern is that the top can injure and even break their penis if the bottom is actively riding on top and slips off the penis or moves incorrectly / at a sharp angle.
Reverse Cowboy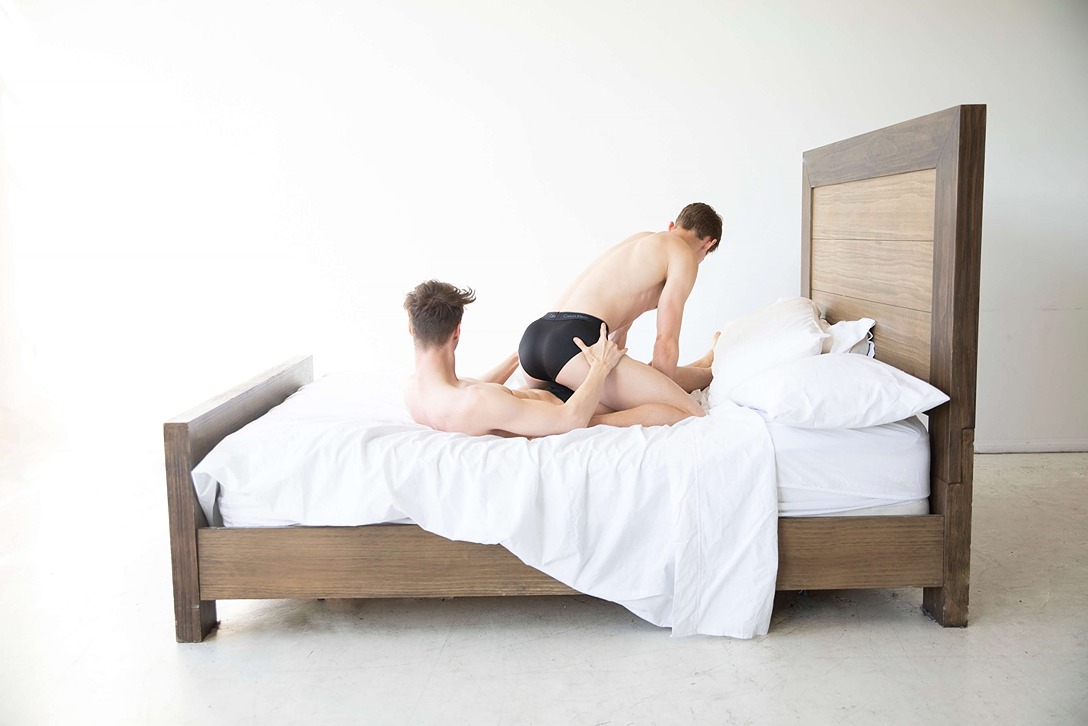 This is just like the traditional cowboy position, except the bottom faces away from the top. The curvature of the top's penis is key here as this position can feel very different for both parties than traditional cowboy. You may find that based on your internal roadmap (your anal canal), reverse cowboy may be more or less pleasurable. If you're a more flexible and advanced bottom, change up the position by laying back on top of your partner's chest and letting them grab your legs and pull them up towards your chest, allowing them to take control of thrusting. This also allows the bottom to be a little more submissive.
PROS/CONS
Because most penises are either straight or curve upwards, it can be difficult to achieve prostate stimulation in this position because the angulation of the penis will most likely be towards the bottom's tailbone, which is opposite from the prostate.
As a result, the bottom can potential experience posterior pelvic pain this way because the penis may be repetitively hitting a wall.
One tip in this position is for the bottom to arch their back and adjust where they are on the penis to make sure it's as direct a hit to their pleasure zones as possible.
While the bottom is technically in control in this position, because they're not looking at their partner, it can be more challenging to read visual cues and to communicate.
I like this anal sex position because it challenges bottoms to learn about their pelvis and can help them tap into other pleasure (and limitation) zones, outside of their prostate.
Missionary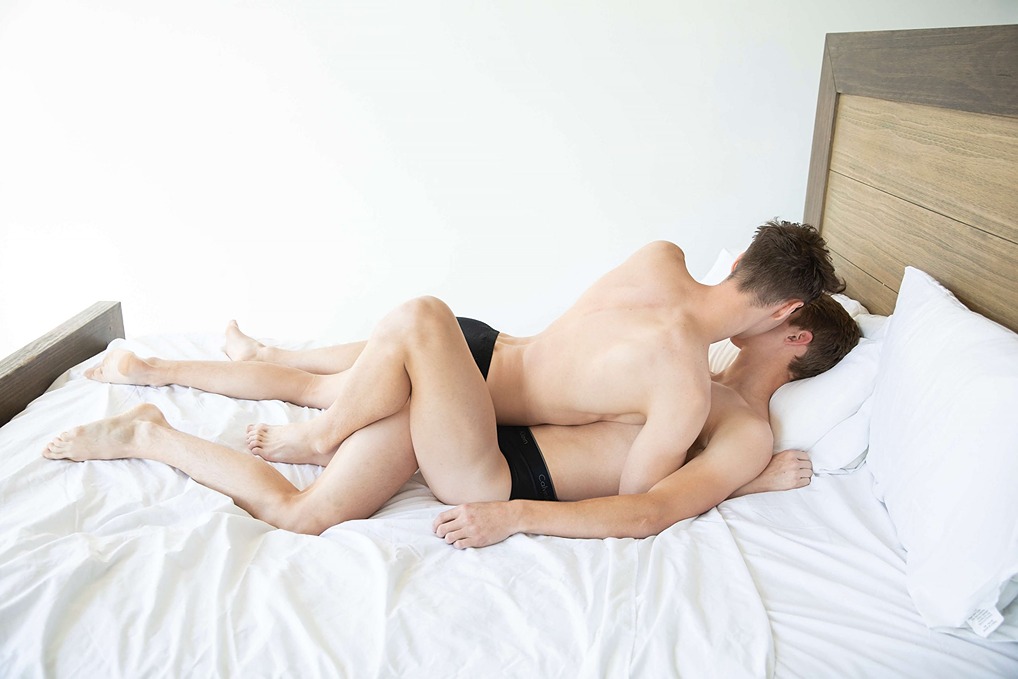 This position can be as vanilla or as passionate as you want and it's especially great for those who enjoy kissing and eye contact. As you can see, the bottom will lie on their back with their legs spread apart, either in the air, wrapped around their partner, or with their legs up against their chest, while the top is above them. I find that this is perfect for those who crave a deeper connection both mentally and physically. Also, since not all couples are the same height, you can use props (like sex pillows) to adjust the height of the bottom for easier, more direct penetration.
PROS/CONS
This is definitely a more top-dominant position, which means it's a great position to graduate to after cowboy once the bottom feels comfortable with variations in speed and depth of penetration as they will have less control over this.
The bottom should adjust their pelvic angle (by opening or closing it) so that the top can have a more direct entry into their anal canal. Then, once the penis is comfortably inside them, they can adjust the height of their legs up or down so that penetration is more pleasurable for their anatomy.
Because you're face-to-face, you can create great communication and elevated intimacy. It also allows the bottom to pleasure themselves (or let their top do it for them!).
Doggy-style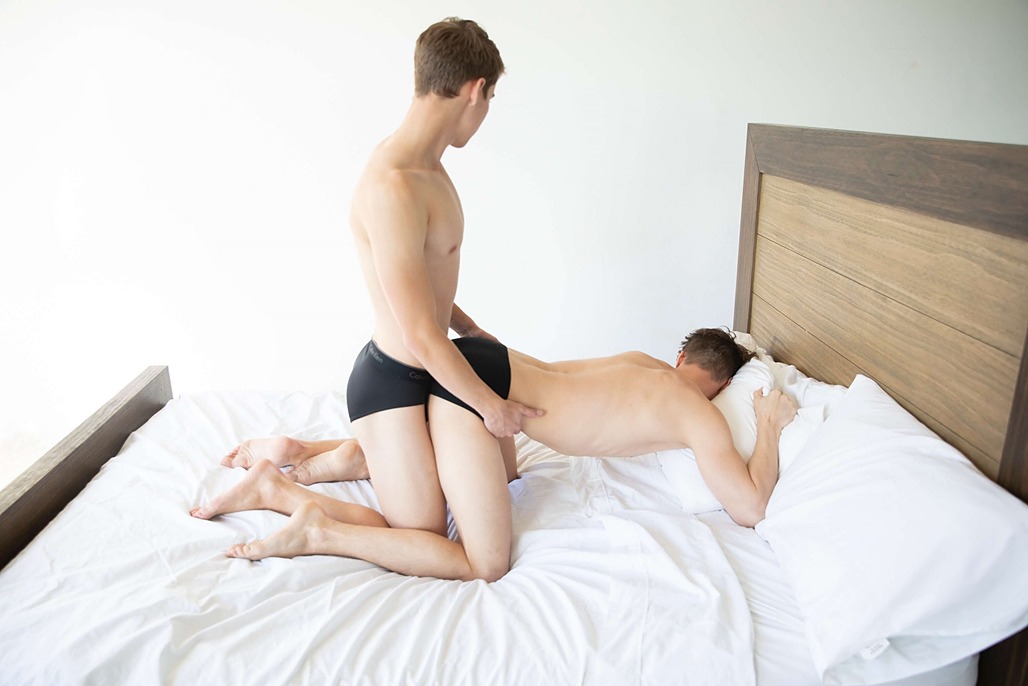 Who doesn't know doggy-style? This one is iconic. But I caution–it's not for beginners because it puts the top in total control. In doggy style, the bottom gets on all fours and the top will be penetrating them from behind, either standing on the ground or kneeling on a bed or couch (so that the top's penis is in line with the bottom's hole). If the bottom is more active, they can grind up against the top and control the penetration. Doggy style can be better for prostate stimulation for some men and it's definitely perfect for more dominant tops and submissive bottoms.
PROS/CONS
The top is in full control of both depth and speed of thrusting, which is great if this is what both parties are looking for, but not ideal if the bottom is inexperienced.
It's important to think about where both parties are in relation to each other (on the bed and also the height of both of you) because of the angulation of entry. The top can be thrusting upward, downward, or straight in, depending on where the bottom is, so you may need to use pillows, tip toes, or crouching to optimize entry.
Penetration in this position can feel harder and deeper, which can be a good thing or a bad thing.
Not all tops have mastered topping and because this position gives them full control, it can lead to trauma for those who are inexperienced.
Another downside is that if there is any trauma, the bottom wouldn't be able to see it in this position.
Because the bottom tends to be more submissive in this position, it also requires a lot more work and stamina from the top.
This position also prevents eye contact, which minimizes visual cues and direct communication.
Side-by-side or spooning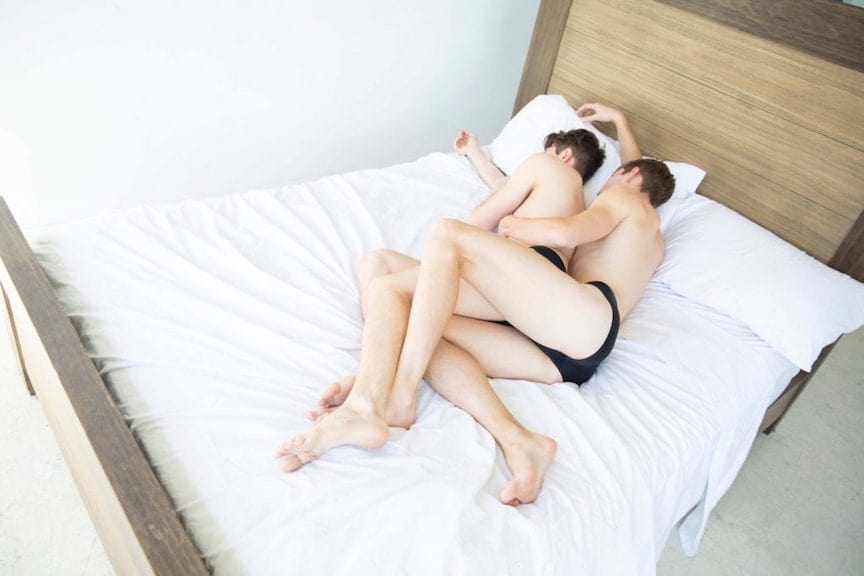 If you want a more sensual (and intimate) position being held while you are bottoming this one is for you. Both partners lay on their sides, with the top on the outside as the big spoon and penetrating the bottom from behind. For an extra deep penetration, the bottom can adjust their legs so that the top can achieve more direct penetration. The bottom will be naturally embraced and cradled in this position–just like cuddling, but sexier.
PROS/CONS
Since partners are not facing each other, it can hinder direct communication and feedback through visual cues, so speaking up is important, if something isn't feeling right (or if it's feeling really good!).
Increasing and decreasing your spoon (how much you're crouched) – will adjust the pelvis and help maximize pleasure and minimize discomfort for both parties.
This can be a difficult position depending on the length and natural curvature of the top's penis.
One benefit of this position is that if you're both different heights, this will be easier than standing positions because you can move around on the bed to account for discrepancies in height.
Be careful when using silicone lube because since you're lying right up against your sheets, you have a greater chance of staining them.
The Bodyguard
Sometimes, you don't want to take it (or give it) laying down (no pun intended). That's when The Bodyguard position comes into play. This standing position allows both partners to be more active because you can move about (as opposed to being limited to lying down on a bed or a couch). Think of this like doggy style, where the bottom faces away from the top and the top enters from behind, except this time both people standing up fully erect (no pun intended). If either party needs more stability, they can hold onto something sturdy nearby (like a wall, table, sink, etc.).
PROS/CONS
This position can be tough on both the top and the bottom, depending on the height disparity between partners. One may have to be on tip toes or crouching to ensure direct access between the penis and the asshole.
Because partners are not facing each other, verbal communication is required to be successful.
If done right, there could provide a great, direct shot into the anal canal and can be very pleasurable for both parties.
As with doggy style, the top is in full control, so this should be reserved for experienced tops and bottoms.
This is a great position for tight spots (like a bathroom or shower) and outdoor areas, where lying down simply isn't an option.
Pirate's Bounty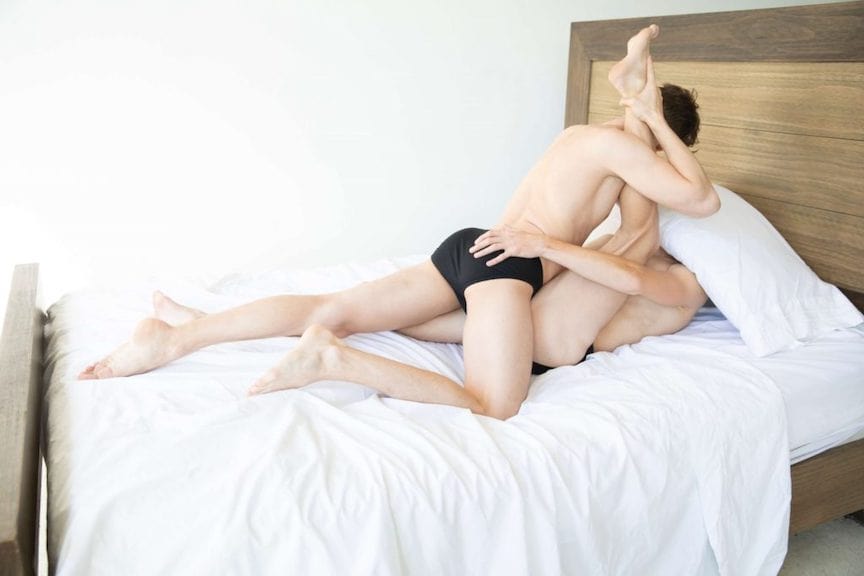 This position is like missionary, but way sexier. In this position, the bottom lies down their back, shifting their pelvis so that one leg is down and the other is up in the air or resting on top's shoulder as they penetrate them. This position is ideal for bottoms who want deeper penetration as it allows a more direct line of entry for the top. Think of it this way — the further up and back the top can push the bottom's leg, the deeper the top can thrust. Not to mention, this will allow kissing and more body touching. Depending on the flexibility of the top and the length of the bottom's penis, this position also allows the top to orally pleasure the bottom while inside of them.
PROS/CONS
Similar to missionary, this position gives the top more control over the speed and depth of penetration, so it should be reserved for people who are comfortable bottoming.
The bottom may need to adjust their pelvic angle (by opening or closing it) so that the top can have a more direct entry into their anal canal. Then, once the penis is comfortably inside them, they can adjust the height of their legs up or down so that penetration is more pleasurable for their anatomy.
Since partners will be facing each other, it allows for unobstructed communication and increased intimacy.
Because the top can go deeper than they can in other positions, they may tap into different sensations–some good, some bad, so the bottom should constantly communicate and adjust as necessary. It also may require more preparation beforehand (re: douching).
Because the bottom is lifting only one of their legs, their pelvis may become lopsided and the top could hit sidewall of the pelvis. This can be irritating because they don't have a straight shot into the anal canal. If this happens, it may actually be better to lift both legs to even out the pelvis.
Suspended Congress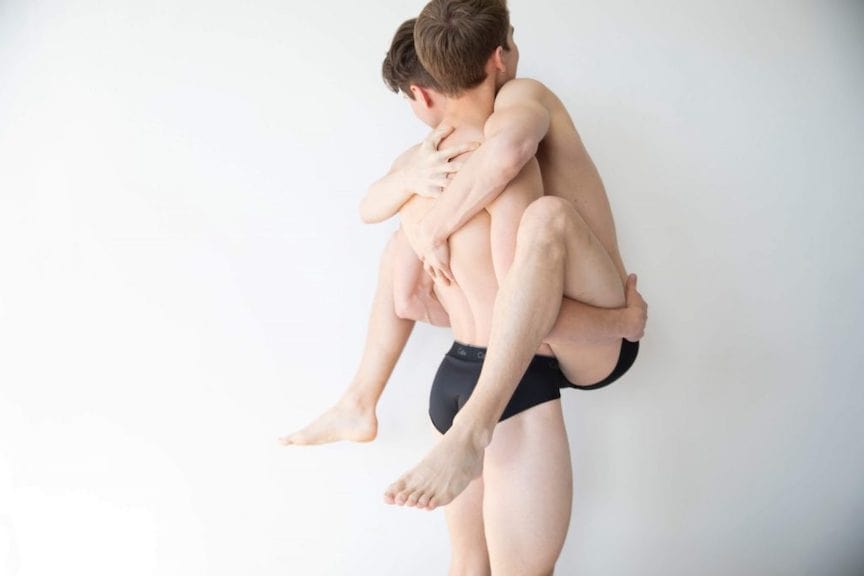 While the name seems silly, this position is only for the serious and seriously athletic. Strength and stamina are key to making this position successful for both parties. It's the most adventurous in my opinion and may be challenging for some so be careful. In this position, the top stands and picks up the bottom, facing each other, and then enters the bottom while holding their thighs to support the bottom's hips against their pelvis. If standing freely doesn't feel comfortable, the top or the bottom can lean up against something sturdy (like a wall or window). But if the top feels confident in their upper body strength, try moving away from the wall. You can skip the gym today and not feel guilty!
PROS/CONS
The top needs to understand the bottom's pelvic angles, while paying attention and adjusting accordingly to how the bottom is being held, height and angle of insertion are critical to make this position work for everyone.
As you can imagine, the top is in total control more so than any other position because the bottom literally has their back against a wall and their weight is being fully supported by the top.
Compared to other gay anal sex positions, the top is most at risk of getting hurt either back issues or a broken penis if they lose control of the bottom or their own footing. There's a lot riding on their shoulders (or more so their penis).
Arch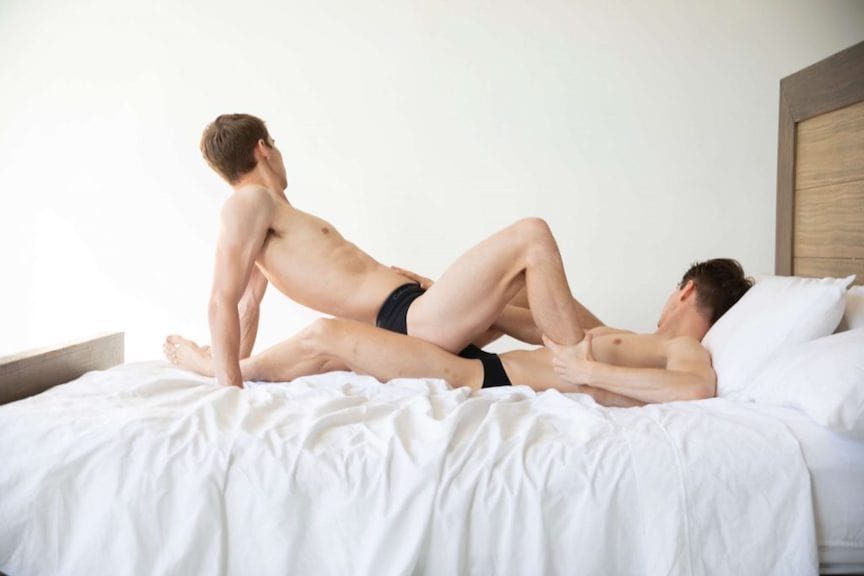 The arch position is another variation of cowboy; however, I would save this position for more experienced bottoms. I would also recommend this only if the bottom has a flexible back. The bottom will sit on the top, but instead of placing their legs on the bed, they'll plant their feet on the bed. When the bottom leans back, the penetration angle can be intense, especially if the natural curvature of the top's penis is up, which will be a direct hit for the prostate. This means it's extra stimulating for both the top and the bottom.
PROS/CONS
Your maneuvers as the bottom are key here and should be gradual, until you've found the right position, and then you can be more aggressive.
It's key to maintain slow thrusting in this position, otherwise the penis can break if not careful.
This can be uncomfortable for the top because of limitations of the bottom's pelvic angle.
For both parties, it may be harder to achieve the pleasures you want if the top's penis curves up or is rigid.
Bumper Cars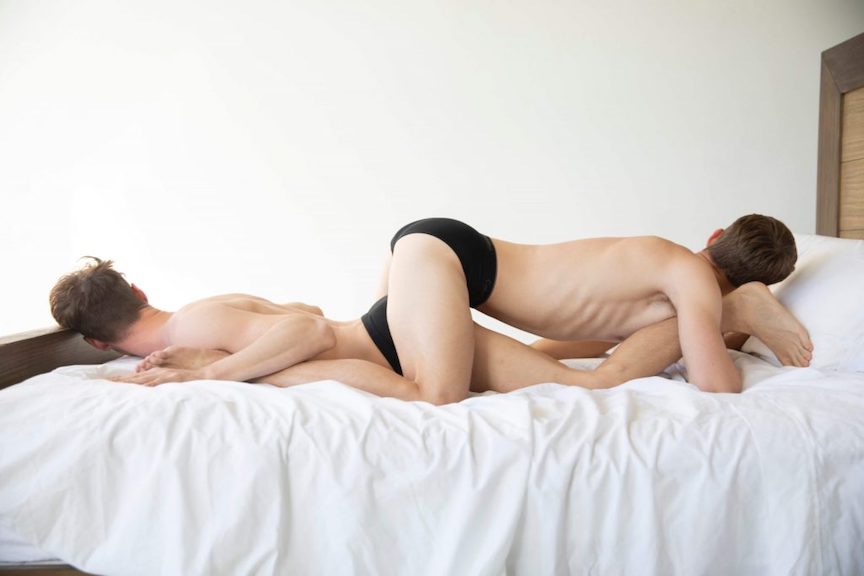 This is as complicated as it looks. But if done correctly, the effort will pay off. As you can imagine, I don't recommend this for new bottoms, but if both parties are flexible, it can definitely bring some sparks into the bedroom. In this position, the bottom should be lying on his stomach, legs slightly spread, while the top is on all fours facing away from the bottom with his penis in line with his bottom's hole. This position is like doggy style except the top is facing away from the bottom. Because of this, thrusting is somewhat limited. However, if you can master this position, it not only looks hot, but also creates new and exciting sensations because of angles that couples usually don't experience.
PROS/CONS
This one can be dangerous for both the top and the bottom. Not only can the top break their penis, but also the bottom can damage their prostate if things get aggressive due to the angulation of entry.
This position requires a very controlled and slow thrust.
If done right, the top can hit the bottom's prostate smoothly. Not to mention, this position is great for breeding.
This can be uncomfortable for the top if their penis is rigid because of the limited flexibility of their movements and the severe angle of entry.
About the Author
Dr. Evan Goldstein is the Founder and CEO of Bespoke Surgical. Dr. Goldstein has extensive experience educating and shedding light on health care issues relating to the gay community, and has been published in several national publications including The Advocate, OUT Magazine, Vice, Refinery 29, NY Mag and more.
Join Our Newsletter
Subscribe to receive exclusive content, new product information, and the latest news.
Featured products
Doc Johnson Crystal Jellies® Anal Initiation Kit - Clear
$19.98
Fun Factory Bootie Butt Plug
$35.00
Future Method Glass Anal Dilator Set
$60.00