Oral sex is just one way to give or receive pleasure, so why are there so many opinions, feelings, and stereotypes surrounding the topic? Because we're human, of course. And humans and sex have a complex relationship, to say the least!
You may have noticed that we don't mind talking about sex at Bespoke Surgical. We believe that the more you know, the safer and better your experience will be! Which made us a bit curious: with such a contested topic such as oral sex, where do the opinions of Americans lie? How common is oral sex? How often do couples have oral sex? We decided to conduct an original survey in order to find out what oral sex statistics in the United States look like.
As with many taboos, the preconceived notions and societal judgments surrounding oral sex are fading away. In Bespoke Surgical's latest survey into American's attitudes on sexual health, wellness and awareness, practice founder Dr. Evan Goldstein was interested in learning more about the state of oral sex in America.
"The results are enlightening and encouraging with the majority of respondents having very positive attitudes toward oral sex," summarized Dr. Goldstein. "Our subjects sent a strong message that they view oral sex as pleasurable, fun, and a great way to create intimacy with their partner. It is also interesting to note that many surveyed don't consider oral sex exclusively as foreplay for intercourse; oral sex can often replace penetrative sex, which indicates that the social stigma that only intercourse is real sex isn't relevant to many people."
"As a leading sex-positive medical practitioner, I see these changing attitudes as very encouraging for American society," concluded Dr. Goldstein. Read on to discover our findings!
Methodology
We surveyed a total of 1008 U.S. citizens over the age of 18 on their oral sex opinions, experiences, and preferences from December 9-11 2019. Our research from the survey estimated that the average person participates in oral sex 5 times a month, whether giving or receiving. Read on to see our specifics!
How Common is Oral Sex?
Our research from the survey estimated that the average person participates in oral sex 5 times a month, whether giving or receiving. Read on to see our specifics!
How Often Do Americans Perform and Receive Oral Sex?
First, we wanted to know how much of our respondents' sex lives are revolved around oral sex and what percentage of couples do oral. As it turns out, the average person performs oral sex 5.32 times per month and receives 5.2 times per month. When we break it down by categories such as sexuality or gender, though, things get a little more interesting.
For example, lesbian women receive oral sex the most out of any category, at 8.86 times per month. Women in general, however, receive oral sex the least, at 4.85 times per month. When it comes to performing oral sex, bisexual people perform the most, at 6.77 times per month.
For this question, oral sex frequency was restricted to cunnilingus and fellatio. We were also curious about analingus, so we broke that out into a separate survey question.
How Often Do Americans Give and Receive Analingus?
Lesbian women give analingus the most out of any category. According to our results, however, gay men receive analingus the most, at an average of 4.26 times per month. Overall, our results indicated that the average person performs analingus 2.14 times per month and receives 2 times per month. As a judgment-free LGBTQ healthcare center, we're happy to see it! If you're hoping to bump your personal oral sex statistics up a notch, consider reading our Guide To Rim Jobs to get started.
Now that we've answered how often do couples have oral sex, we decided to ask our respondents about what the actual act of oral sex looks like for them, all the way from the act itself to when they or their partner finishes. Below are three pie charts that display our results for these oral sex statistics.
What Actions Do Americans Perform While Giving Oral Sex?
When it comes to performing oral sex, there is potentially a lot involved. Our respondents reported that when giving oral sex, 66% will play their partner's other body parts. 11.8% will masturbate themselves, and 13.3% will do nothing besides the act itself. To each their own, of course!
How Often Do Americans Achieve Orgasm From Oral Sex?
Our next question asked how often Americans achieve an orgasm from receiving oral sex on average. The majority of our respondents replied, "some of the time" (31.2%). 22.4% orgasm most of the time, and 13.1% orgasm never or almost never. It truly is a mixed bag, which is important to remember when you have a new partner!
How Often Does Oral Sex Lead To Other Sexual Acts?
Next, we wanted to know how often engaging in oral sex leads to other sexual acts on average. Is it a one-off action, or foreplay for most people? As it turns out, for the majority of people, oral sex leads to other sexual acts "most of the time" (36.5%). A little over a fourth of our survey pool replied "every time or nearly every time," which is significant. It can be implied that oral sex is a form of foreplay for most people!
For people with partners who ejaculate, we had to ask our own version of the infamous "spit or swallow" question: where do you prefer that your partner ejaculates?
Finishing Preferences
As it turns out, there are a lot more options than spit or swallow. The majority of people who have partners who ejaculate prefer they do it in or on their genitals, and yet the majority of people who ejaculate prefer to do it in their partners' mouths. Definitely an important topic to discuss with your sexual partners!
Since oral sex is such a widely discussed, and often taboo, topic, we decided it would also be interesting to dive into how our respondents feel about it.
How Do Americans Feel About Oral Sex?
Happily, over 80% of our respondents find pleasure in oral sex, and 73.5% feel that it is fun. It's also heartwarming to see that 55.8% feel that it makes them feel closer to their partner. These sentiments were much more commonly reported than the negative ones, but the negative ones are still there.
25.3% of people feel that oral sex makes them self-conscious. Only 6.3% of respondents think oral sex is gross, and only 3.5% think it's shameful. Overall, we feel that these are promising statistics when it comes to a healthy sexual attitude around oral sex, but of course, there is always more work to be done.
Finally, we rounded up some miscellaneous opinions and preferences from our result into the graphic below that answer questions like "is oral sex more intimate than intercourse?"
Oral Sex Opinions And Preferences Of Americans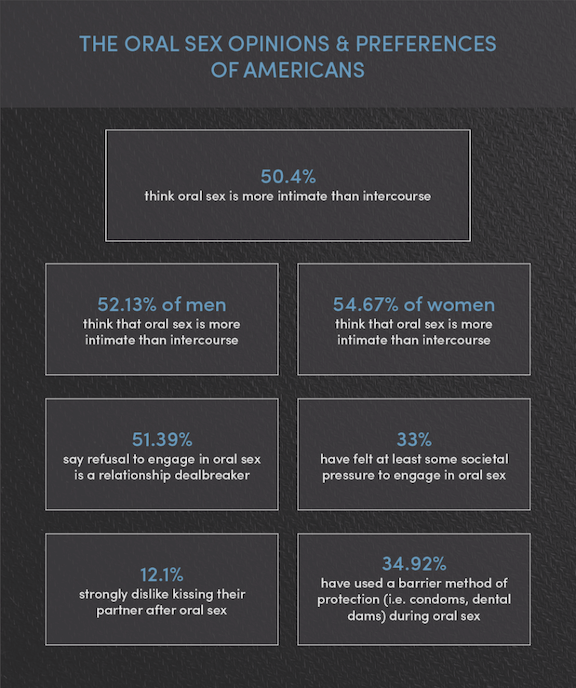 Do you think oral sex or intercourse is more intimate? Our respondents were split down the middle, with oral sex winning by a razor's edge. 50.4% think that oral sex is more intimate than intercourse. Interestingly, the majority of men think that intercourse is more intimate, whereas the majority of women think that oral sex is more intimate.
Another question our respondents were very split on was: is refusing to engage in oral sex a relationship deal-breaker? 51.39% said yes. Other interesting statistics: 33% have felt at least some societal pressure to engage in oral sex, and 12.1% of people strongly dislike kissing their partner after oral sex.
And that wraps up our survey on oral sex statistics in America! We found all this information to be enlightening and fascinating. This survey is part of a series for sex-based research we've completed, like our survey on America's Favorite Sex Positions. At Bespoke Surgical, we believe in a candid approach to healthcare, which is why we heavily focus on education and prevention. When it comes to sexual health, it's important to open up and examine your own feelings and experiences, and if you have any questions, we hope you feel empowered to ask a healthcare professional as soon as possible.
About the Author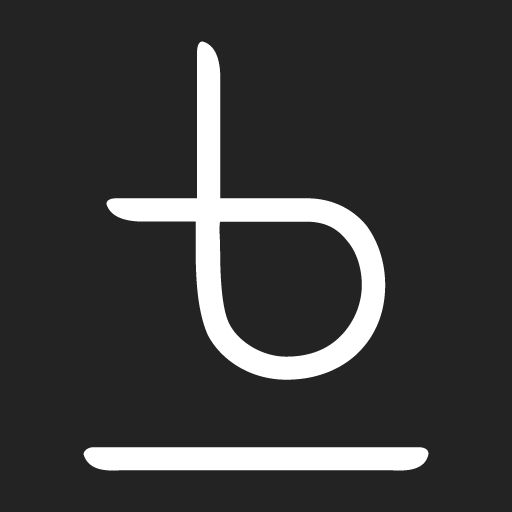 Consistent, proactive, and thoughtful healthcare is not only a priority, it is a demand by men who live well. Bespoke Surgical is built on this understanding. Today's modern, urban male has become adept at making the most of life, believing in living fully and completely in all aspects of work, fitness, relationships, and family. This makes excellent health more important than ever.
Join Our Newsletter
Subscribe to receive exclusive content, new product information, and the latest news.
Featured products
Doc Johnson Crystal Jellies® Anal Initiation Kit - Clear
$19.98
Fun Factory Bootie Butt Plug
$35.00
Future Method Glass Anal Dilator Set
$60.00