As humans, we're creatures of habit. Once we find a few go-to sex positions that tickle our fancy, we soon find ourselves cycling through a few common sex positions over and over. For many, a healthy rotation of tried-and-true sex positions is preferred because these are the positions that we genuinely enjoy most with our partners or where climaxing is guaranteed.
For others, sex positions know no bounds. The sky is literally the limit, and adventurous, orgasm-inducing positions are experimented with frequently for heightened pleasure, stimulation, and intimacy with our partners. Whether you're mastering new sex positions or perfecting old ones, we all certainly have a favorite sex position – or multiple!
With the sheer number of exhilarating positions that exist in the world (there are 64 in the Kama Sutra alone), which are the ones that Americans covet most? In an effort to answer this question and more, Bespoke surveyed 1,000 Americans across demographics and all fifty states to uncover Americans' ultimate preferred sex positions.
"The results of this new Bespoke Surgical survey are really enlightening and show we've been spending the past year researching and trying a wide range of sexual positions," commented sexual health and wellness expert Dr. Evan Goldstein. "We were impressed by a few aspects of the results, including the range of positions Americans are utilizing in their sexual arsenal, especially a rise in anal engagement. We hope Americans continue to explore both their bodies and their partners' bodies in healthy, positive ways."
To supplement our survey, we dived into the search interest of specific positions on a state-by-state basis for the common sexual positions. Our numbers result from analyzing Google Trends search volume data over the past twelve months for 35+ sex positions to determine the most popular sex position in every state. This survey was conducted as part of Bespoke Surgical's survey series to examine America's sex life. Check out related surveys like the Average Penis Size by State and more!
Read on to check out the top reported sex positions and see where your state lands!
The Top Searched Sex Position in Every State

When analyzing Google Trends search volume of sex positions over the past year, reverse cowgirl was the clear winner for favorite position overall, with the highest search volume across seven states. The runner-up most common sex positions were reverse cowboy, reverse cowgirl, doggy-style and missionary.
Reverse cowboy and reverse cowgirl are knock-out positions to try when you're feeling a bit spicy and perhaps up for an alternative to the traditional cowboy/cowgirl. In this position, we face away from our partners giving them a glorious few of the backside. Arching the back is critical in this position to ensure direct hits to the pleasure zone. This position's con is that it lacks direct eye contact, which can limit our visual cues and communication during sex.
Traditional sex positions like doggy-style & missionary followed with the highest search volume across six and four states respectively. Other states' most googled sex positions were ones slightly more off-the-beaten-path, like the cliff diver position in California or the bumper cars position, most popular in New Jersey and Rhode Island.
America's Favorite Sex Positions by Orientation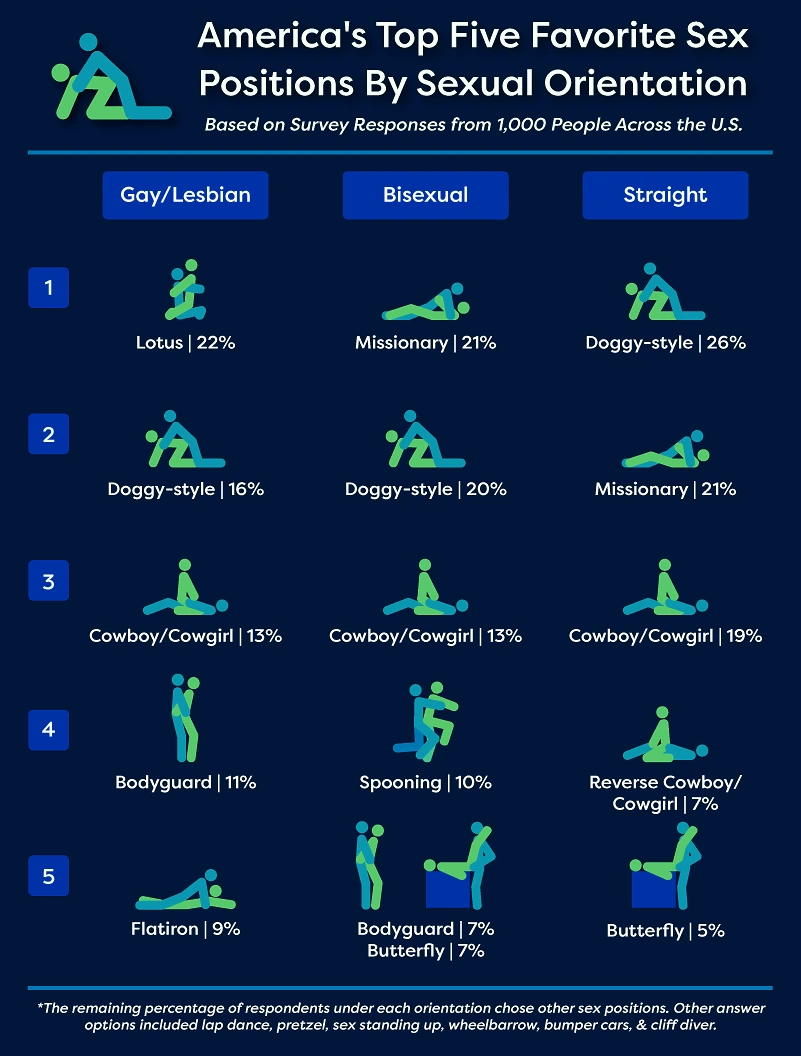 For America's favorite sex positions, we categorized by sexuality and rank. The largest percentage of survey respondents who self-identified as gay or lesbian (22%) say the lotus position is their favorite sex position, followed by doggy style (16%), cowboy/cowgirl (13%), bodyguard (11%), and flatiron (9%). For respondents who identify as bisexual or pansexual, missionary (21%) and doggy-style (20%) are the top two favorites. For respondents who identify as straight, doggy-style (26%), missionary (21%), and cowboy/cowgirl (19%) are the top three preferred sex positions.
Overall, doggy-style was named the favorite sex position by the largest percentage across all survey respondents, almost 25%, most likely for its deeper penetration, which can be ideal for greater stimulation of the prostate or g-spot. This iconic position is also perfect for dominant tops and bottoms that are both experienced and submissive. Doggy-style can always be jazzed up with fun additions like sex pillows or toys to add a little spice to even the most normal sex positions. 
America's Preferred Toys, Props, & Settings for Sex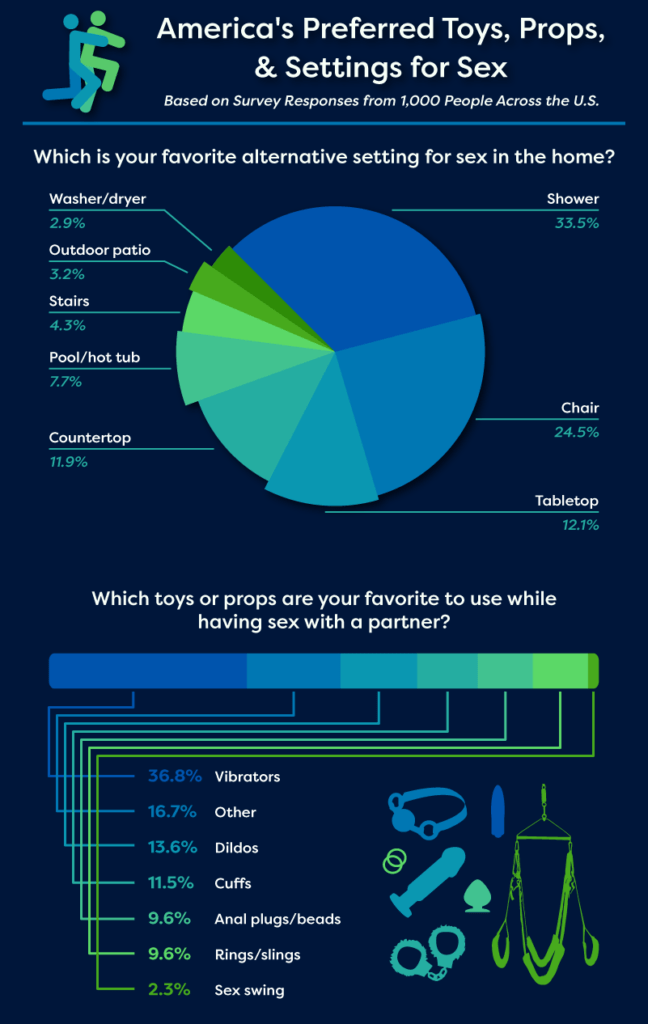 When asked which is their favorite alternative setting for sex, outside of the bed, the largest portion of respondents (34%) say shower sex. Shower sex can be incredibly sexy, eco-friendly, and immaculate in terms of clean-up, but it doesn't occur without its pitfalls. Water and soap do NOT substitute for lube in a shower setting, and therefore lube selection is key. Opt for an oil or silicone-based lube for shower sex, as water-based lubes will typically wash away immediately.
When asking about their preferred sex toys or props, 37% of respondents say vibrators, 17% say other toys, and 14% say dildos. Recently, several studies have covered the psychological benefits associated with using vibrators and sex toys in general, including aiding with stress levels, mental health, body confidence, and relationship satisfaction. We'll take all of the above!
Twelve Must-Know Sex Statistics for 2021
More has changed in the past years than just the most common sex positions. We also asked respondents about the frequency they're having sex currently versus before COVID-19. 43% say they're having sex more now than before the pandemic, while 34% say they're having sex the same amount, and 23% say they're having sex less now. Due to safety precautions and fewer outings during the pandemic, singles and divorcees are having sex less now than before the pandemic. Based on survey responses, singles had sex 9.48 times per month on average before the pandemic versus 8.61 times per month on average now.
When delving into the most number of times respondents have had sex in one night, the average number was 3.43.
When it comes to anal, 24% of all survey respondents say they have never had anal sex, while 76% say they have. Of those respondents who have had anal sex, the largest percentage (17.8%) do it once per year or less, followed by 17.7% of respondents who have anal sex a few times a week, and 13.3% who have anal sex once a week. The largest portion of respondents (42%) who self-identified as gay or lesbian are having anal sex a few times a week.
When it comes to specific sex positions, women are achieving orgasm most in the missionary sex position, while men are orgasming most in the doggy style position. Luckily, the large majority of respondents, overall, are able to climax during sex. When asked how often they achieve orgasm from having sex, 76% of respondents say either always or often. Only 2.9% of respondents say rarely and only .9% say never.
When asked which position they would most love to try, the largest count of respondents says the lotus position. This position involves one partner sitting, cross-legged, while the other partner faces and straddles them, allowing for escalated eye-contact and intimacy. Other top picks for sex positions they'd like to try in the future include anal sex, the cliff diver, the wheelbarrow, the butterfly, and the bodyguard position (in that order).
Gen Z Preferences When It Comes to Sex
Are younger generations givers in the bedroom? Survey says, yes. When it comes to oral sex, the slight majority of respondents overall (51%) would rather receive it than give it; however, Gen Z respondents, ages 18-24, feel differently. 60% of Gen Z respondents would rather give oral sex, compared to only 40% who would rather receive it.
What's more, Gen Z is currently having sex more times per month on average (10.64 times) than any other generation, according to survey responses. When it comes to anal sex, 37% of respondents, overall, report having anal sex once per week or more, whereas over half of Gen Z respondents (55%) report having anal sex once per week or more. For readers curious about familiarizing themselves with anal sex positions, consider checking out Bespoke Surgical's Anal Sex Science blog.
Wrap Up
And there you have it, a culmination of sex and sex position statistics to satisfy your curiosity about favorite sex position preferences in 2021. Sex is one of the most satiating and intimate acts we can partake in, and when we master certain positions that fulfill both ourselves and our partners, it only heightens the experience. If you're in search of other ways to improve your sexual wellness, at Bespoke Surgical, we have plenty of resources to help.
About the Author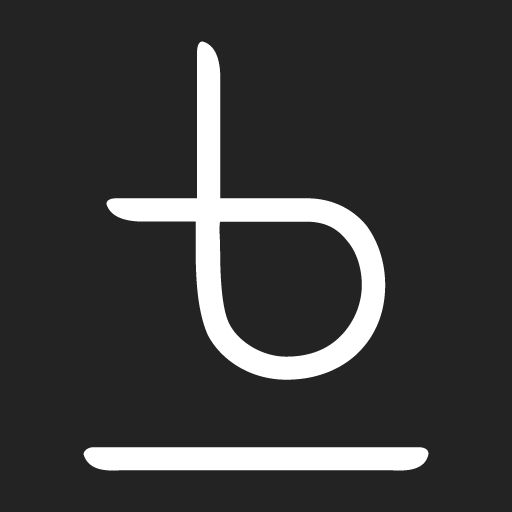 Consistent, proactive, and thoughtful healthcare is not only a priority, it is a demand by men who live well. Bespoke Surgical is built on this understanding. Today's modern, urban male has become adept at making the most of life, believing in living fully and completely in all aspects of work, fitness, relationships, and family. This makes excellent health more important than ever.
Join Our Newsletter
Subscribe to receive exclusive content, new product information, and the latest news.
Featured products
Doc Johnson Crystal Jellies® Anal Initiation Kit - Clear
$19.98
Fun Factory Bootie Butt Plug
$35.00
Future Method Glass Anal Dilator Set
$60.00