Which cities have the sauciest hookup scene or the most opportunities to score? We've scoured locations across the country to find which ones have the most singles, minimal sexual frustration, the highest number of bars, adult entertainment clubs, and other indicators of a thriving hookup culture, all to help you find the perfect place to get lucky. So, get ready to pack your bags and leave your inhibitions at the door because we're about to dive into the best cities in the U.S. to get it on.
Key Findings
Pack your bags for

Tampa, FL

this summer because it's the

#1 best U.S. city to get laid

. 43% of Tampa's population is single, and Floridians boast 14 orgasms per month, on average. The national average is 12.5.

Pittsburgh, PA ranks #2

because it has 225 bars for every 100,000 residents, more than any other city in the ranking. The national average is 86 bars (per 100K).

Los Angeles, CA ranks #4

because 45% of the population is single. LA has 16 drive-in movie theaters for getting frisky and 54 swingers clubs for sexual play.

Las Vegas, NV lands the sixth spot

because it has more adult entertainment clubs than any other city, 10 clubs per 100,000 residents. The national average is two clubs (per 100K).

Of the top 20 cities to get lucky, 13 are located on the coastline.

Out of the top five cities, three are located in Florida, indicating that sea air, sunshine, or warm weather may go a long way when it comes to getting in the mood.
The 20 Best U.S. Cities to Get Laid
Good news for Floridians going through a dry spell, the odds are in your favor. Three of our top five cities to get lucky are in the Sunshine State, with Tampa at number one. We all knew Florida had a wild side, but who knew the home to the House of Mouse was such a hotbed for sexual activity? With high numbers of single residents, bustling nightlife, and an abundance of sunshine, it's no wonder that so many people are finding their perfect match in these sweltering cities.
But what makes Tampa so appealing, you might ask? For starters, nearly 43% of the population is single, making it a mecca for people ready to mingle. If that doesn't entice you, there's plenty of evidence suggesting Floridians are more sexually adventurous than the average American. Folks in Florida average almost 14 orgasms a month, over 11% higher than the national average. Plus, with access to 36 swingers clubs, Tampa is more open to sexual experimentation, making it the perfect playground for individuals looking to score.
They don't call it the Wild West for no reason. Las Vegas, Nevada, came in sixth place on our list with the second-highest percentage of anal-curious residents in the country. Sin City also claims more adult entertainment clubs than any other city in our study, 10 clubs per 100,000 residents (the country's average is two clubs per 100K).
However, if you really want to ride a cowboy, you might want to head to California. With cities like Los Angeles, San Francisco, and Riverside ranking in the top ten best cities to get laid, California is a paradise for those on the West Coast looking to explore their sexual interests.
Sex Positive Destinations: The Best City by Category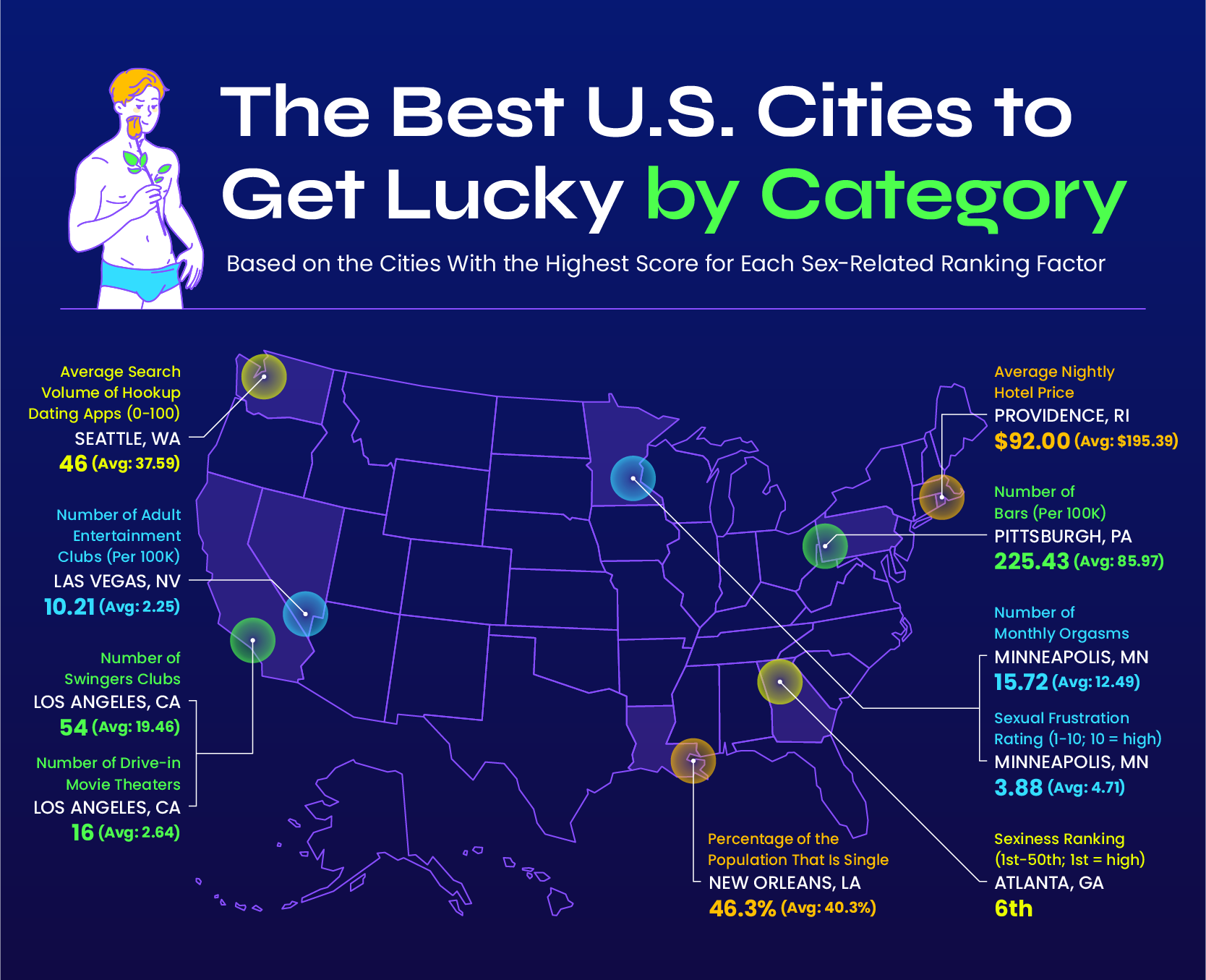 When you think of the American Midwest, sexual exploration doesn't often come to mind; however, the numbers speak for themselves. Minneapolis, MN residents have the highest number of orgasms in the U.S. at almost 16 per month, 25% more than the national average. Who knew?
When you dig a little deeper, it's not as shocking as it seems. Minneapolis has numerous resources to support a sex-positive culture, including sex-positive organizations, sex toy shops, and educational resources for sexual health and wellness. The Midwest might be unfairly stereotyped as the most unsexy region in the country, but don't overlook Minneapolis as a destination for a fulfilling sexual experience.
On the flip side, this wouldn't be a piece about sex without mentioning New Orleans at least once. The famed Louisiana city is known for its wild Mardi Gras celebrations and being the party capital of the Southern U.S., but did you know that it also has the highest population of singles in the entire country? That means as soon as you step foot in New Orleans, your chances of getting laid increase exponentially.
NOLA's large pool of eligible bachelors and bachelorettes offers more opportunities to connect with someone who shares a similar spark to yours. Whether it's at one of the many bars, clubs, or events that the city offers, New Orleans provides an ideal environment for singles to interact and explore their sexuality. With so many of them, the odds of finding a sexual partner in New Orleans are certainly in your favor.
Full Data
Are you curious to know where your city ranks in the list of best cities to get lucky in the U.S.? Check out our interactive table with full city ranking data! You can see how your city stacks up against others in terms of the single population, access to swinger's clubs, bars, adult entertainment, and more.
Closing Thoughts
We hope our tour of the top U.S. cities to get lucky in has provided you with some inspiration for your next hookup. Looking to learn more about exploring your sexuality safely? Check out Bespoke Surgical's educational resources. Bespoke Surgical is dedicated to providing resources and information to help individuals have fulfilling and healthy sexual experiences. We cover a wide range of topics, including sexual health and wellness, sex-positive culture, and safe sexual practices.
Methodology
We conducted an analysis of 10 factors related to sexual activity across the 50 largest cities in the U.S. Each city was assigned a score of 0-10 for each factor, with 10 being the most favorable. We then calculated the total score for each city by weighting the individual factor scores based on their impact on the likelihood of getting laid. To obtain the final score for each city, we added the individual factor scores, resulting in a range of scores from 0-50. Higher scores indicated that a city is better for hooking up.
Two ranking factors, sexual frustration ratings and the number of monthly orgasms were sourced from a previous Bespoke Surgical survey conducted in October 2022, which had 2,858 respondents across 44 states and a diverse set of demographics, including gender identity, age range, and sexual orientation. You can find a detailed breakdown of each individual ranking factor below.
Ranking Factors:
Percentage of the Population That is Single
Sexual Frustration Rating
No. of Monthly Orgasms
No. of Drive-In Movie Theaters
Weight: 1.00

Source:

Yelp
No. of Bars (Per 100K Residents)
No. of Swingers Clubs
No. of Adult Entertainment Clubs (Per 100K Residents)
Weight: 1.00

Source:

Yelp
Average Nightly Hotel Price
Sexiness Rank
Average Search Volume of Hook-Up Dating Apps (Tinder, Grindr, & OkCupid)
About the Author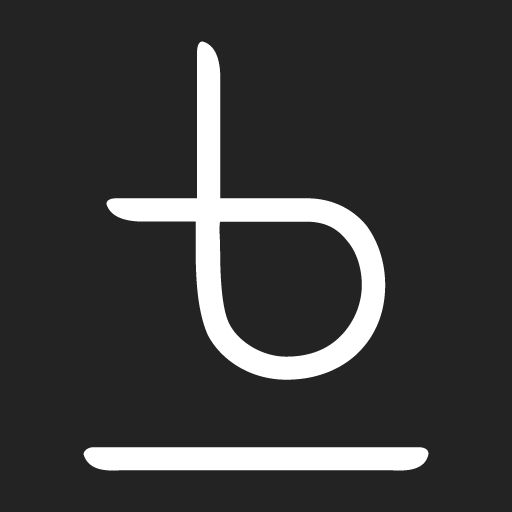 Consistent, proactive, and thoughtful healthcare is not only a priority, it is a demand by men who live well. Bespoke Surgical is built on this understanding. Today's modern, urban male has become adept at making the most of life, believing in living fully and completely in all aspects of work, fitness, relationships, and family. This makes excellent health more important than ever.
Join Our Newsletter
Subscribe to receive exclusive content, new product information, and the latest news.
Featured products
Doc Johnson Crystal Jellies® Anal Initiation Kit - Clear
$19.98
Fun Factory Bootie Butt Plug
$35.00
Future Method Glass Anal Dilator Set
$60.00